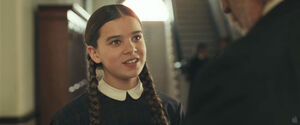 Mattalyn (Mattie) Ross is the daughter of Frank Ross and friend and travel companion of Rooster Cogburn. In the 2010 remake she is portrayed by Haliee Steinfeld.
Mattie Ross is the daughter of Frank Ross who is murdered by Tom Chaney to begin the film. Mattie never liked Tom and always had suspicions about him. She teams up with Cogburn (because he has 'true grit') who is known as one of the meanest Marshals alive. At first Cogburn told Mattie to go back home so he could hunt down Chaney by himself after he gave her a train ticket back to her home. Mattie being a head strong girl didn't go on the train and said she was going with him to catch Chaney.
Later on their journey they (Cogburn and Mattie) team up with a Texas Ranger LaBoeuf to hunt down Chaney after he tells Mattie that he has been looking for Chaney because he murdered a man in Texas.
Mattie, in the end, achieves her goal of killing Tom Chaney, thus avenging her father's murder. In the remake she kills Chaney with LaBoeuf Sharpe's Carbine, though she is bitten by a rattlesnake and loses her arm after failing down a mineshaft due to the recoil. She travels to see Rooster in 1903, at the end of the film only to learn of his recent death. She has his body moved to her family plot in Yell County.