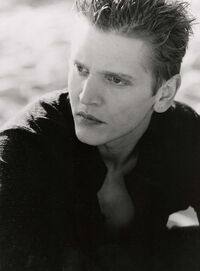 Canadian character actor, Barry Pepper best known for his roles in Saving Private Ryan and The Green Mile, has some big shoes to fill in the new version of True Grit (2010). He will be playing Ned Pepper, a role originally played by Robert Duvall. Pepper was recently asked about the film and how he felt about reinterpreting Duvall's role.
"You know, I had never seen the original and I had been asked to read for this part of "Lucky" Ned Pepper, of all names. I thought, well this is a bit of type casting, to come to a Pepper to play a Pepper. So I read for the part and I created the character, not knowing what Bob had done. When I got the role, somebody had told me that it wasn't just based on the book, and that I should see the original film. Actually, I just did ADR for True Grit this morning and I blew my voice out. So then I saw the original film and I said, "Wow, these are big boots to fill." I was very pleased that I had an opportunity to create my own character before I knew that he had played the role. I guess I must have had my head in the sand not knowing that Duvall had played 'Lucky' Ned Pepper."

Pepper continued, "it was a wonderful opportunity to get to work with the Coen brothers and reunite with my old Saving Private Ryan buddy Matt Damon. Jeff Bridges was ... well everybody will tell you that he is just an amazing guy to work with. He is just so full of joy. It was something that he told me his father had infused in him as a child, watching his dad on film sets working. He would just bring a joy and enthusiasm to the film set and Jeff is the same way. It's just like a ripple effect across the cast and crew when he steps on the set. He just brings so much love of the art form that you can't help but smile and have a good time around him."